Jazz band[Gli Accademia] performed at Aeon Mall Tsukuba!
Keyboard, Violin, Sax Jazz trio  [Gli Accademia] and 3 guitars Mexico music [Loss Amigos Mariachi]  performed in
Feel the world event gig at Aeon Mall Tsukuba March 30th and 31st,2013.
Clown Zen also performed 2days!
They did a great performance and the audiences enjoyed their music !
Silk Road music band「Rain In Eden ]、and African music band [African Express]
will perform in the weekend.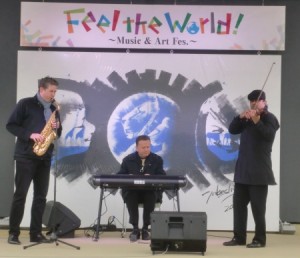 イベント担当:越田
The professional agency which has every international model,
talent
Our narration division works with narrators from around the world, and our consistent record of booking high-grade narrators has been appreciated by the NHK. Our narrators appear on more than 30 NHK programs as regular cast members. For international talent, contact Free Wave. We respond to our clients' needs by fully utilizing our industry-leading network of global human resources.