In July 2019, a movie "Ichigo no Uta" will be released in Japan. With this film, we'd like to talk about a traditional star festival in Japan, "Tanabata" as well as many well-known and not-so-well-known faces of the Japanese entertainment industry involved in the film.
The Paths of Two Young People Renuite on the Day of Tanabata
The story starts when Kota, a bit awkward but kind man, reunites with Chika, a classmate from his junior high, in Koenji, Tokyo on the 7th of July which is the day of Tanabata.
Tanabata is a festival based on an ancient myth where Vega and Altair are separated by the Milky Way (Amanogawa) despite being in love with each other. They are only allowed to cross the Milky Way and see each other once a year on the 7th of July.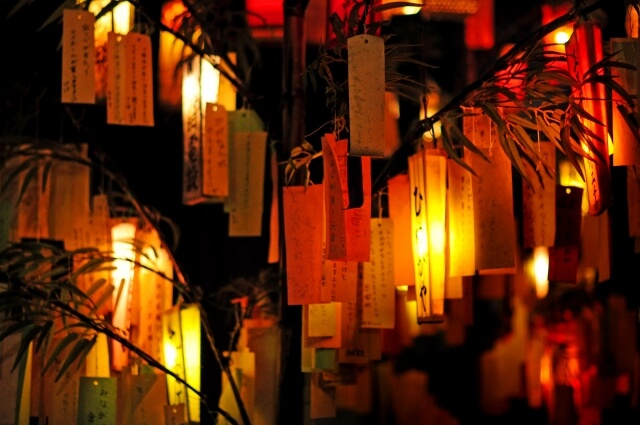 The myth is said to originally have come from China around the 10th century and it later spread out to the general public in the 17th century and people started writing down their wishes on pieces of paper to hang them on bamboo trees. This tradition still carries on to this date.
Kota reunites on this romantic day with Chika Amano (do you see how the creators try to make her name sound like Amanogawa (Milky Way) when the name is written in Japanese order of surname to given name?)
She was the girl Kota always gazed on from distance in his young days with his best friend Shinji. Also, it was the day Shinji passed away.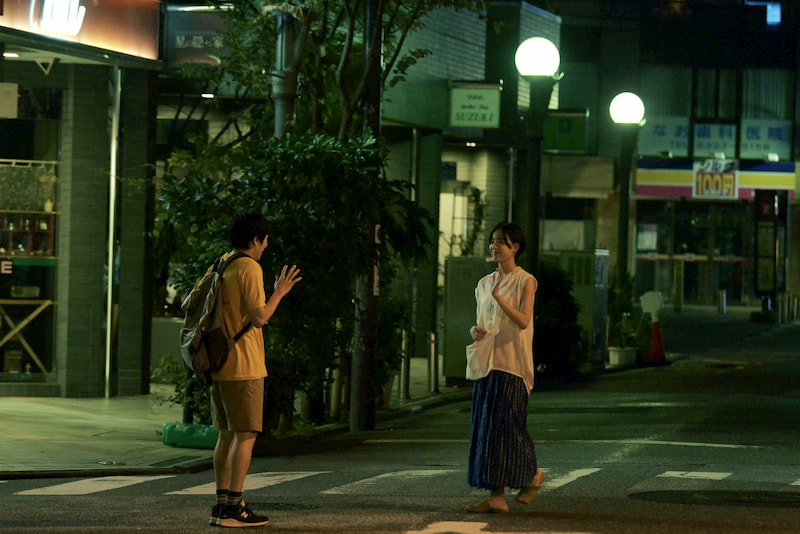 The two make a promise to reunite on the same day of Tanabata every year. Kota waits anxiously for this day while Chika seems to have a conflict of mind and one year, she tells him this will be the last that they see each other.
Why does she say that? That's because she is still hanging onto those days when she grew up with Kota and Shinji, in an orphanage.
Heartbreaking But Heartwarming
The memories of the time they spent with their only friend Shiji still catches on with Chika but Kota chose to move on. There are so many episodes scattered all over the movie that would definitely make your chest tight. But the world that surrounds Kota shines a ray of light.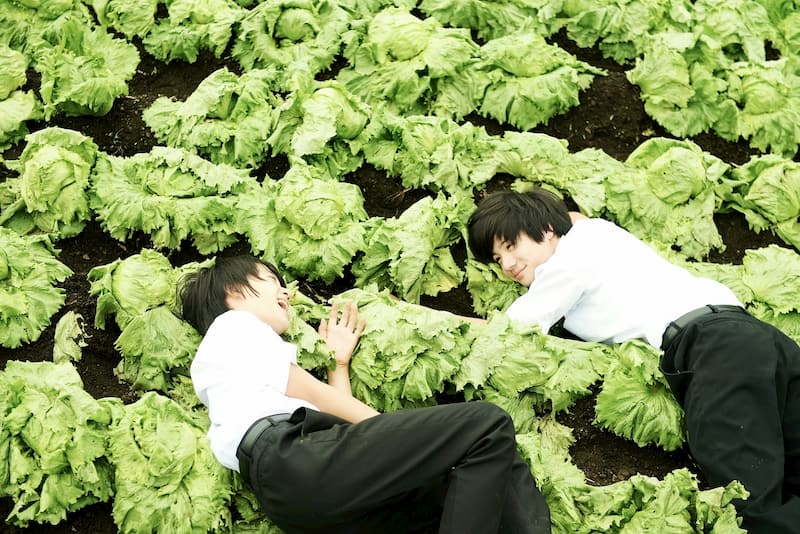 Kota is a kind of person who shows emotion a lot but he is not so good at putting it into words especially when it comes to love.
He has been through tough times like the death of his best friend, Shinji. But he sometimes puts on the edge for what he says. Yet, the world, as he sees it, is full of love.
His parents and brother always stayed on his side to support him no matter what happened. Kota's caring personality is almost angel-like.
He works at a frozen food factory and he is always having a good time with his colleagues. On top of that a punk rock girl, Akemi, adds a little bit of spice to the story. Every one of them has some difficulties in their lives.
Looking at each character individually, each story may look a bit grim but Kota's smile saves us from it and we can see the universal difficulties of what it means to be a human.
Kota, being someone that has been given a lot of love himself, wishes he could give Chika a smile.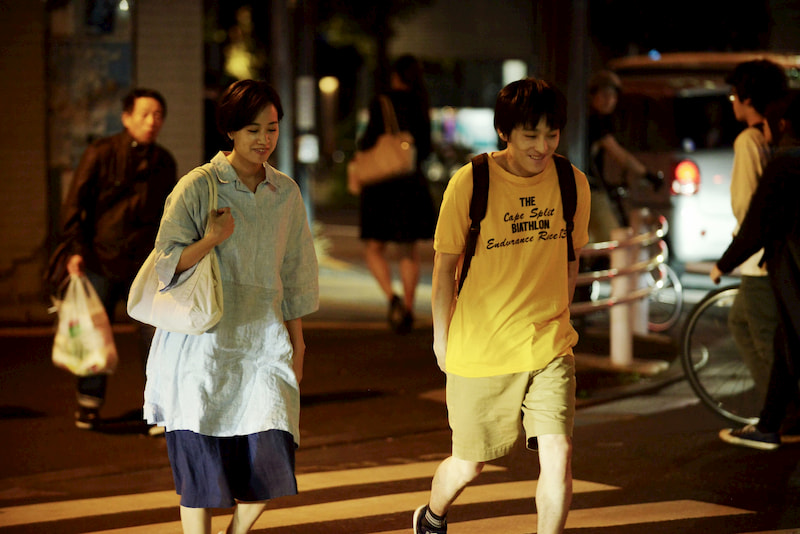 "I'm happy when you smile"
Kota says to Chika. His innocent smile and his words that show truly what he means make us chuckle and brighten up the mood.
Rising Stars and Veterans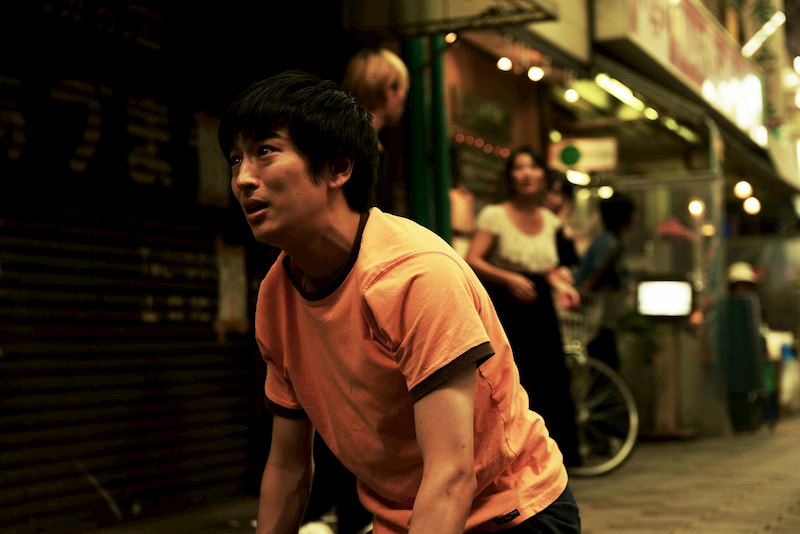 Yutaro Furutachi plays the role of Kota. He also plays in a rock band "2". He drives the story with his energy.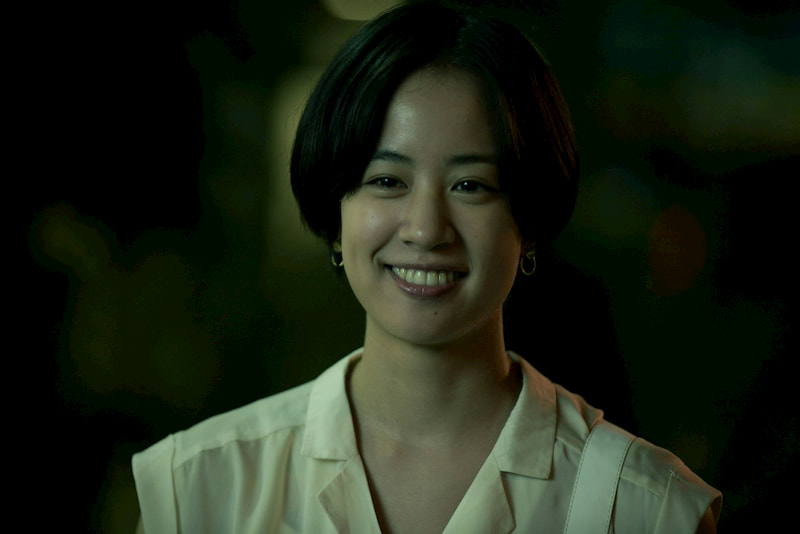 Despite the fact that we don't see much of Chika today, multi-time award winner Shizuka Ishibashi helps us understand what kind of person Chika is.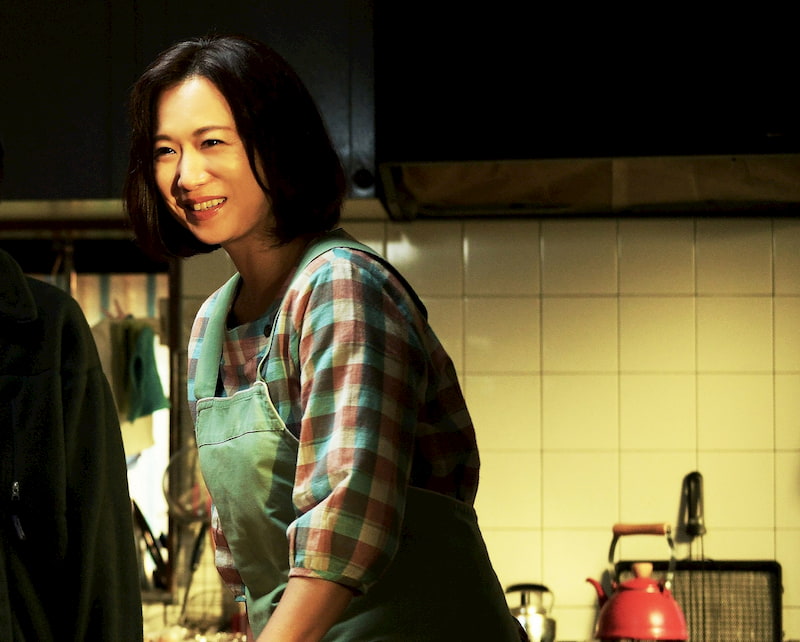 There are so many spots that can bring you to tears but personally, Kota's mother played by Emi Wakui is the favorite. Each subtle movement of hers strikes your heart being able to feel her love for Kota even though she doesn't have much dialogue.
Emi Wakui made her debut in 1988. She played a lot of roles as a charming star but she has now reached the age of mother role. A famous movie that she played a mother role would be an NHK series "Chiritotechin". She played a clumsy, awkward but caring and supportive mother that raises her daughter. The sense of relief that she gives is present in this movie too.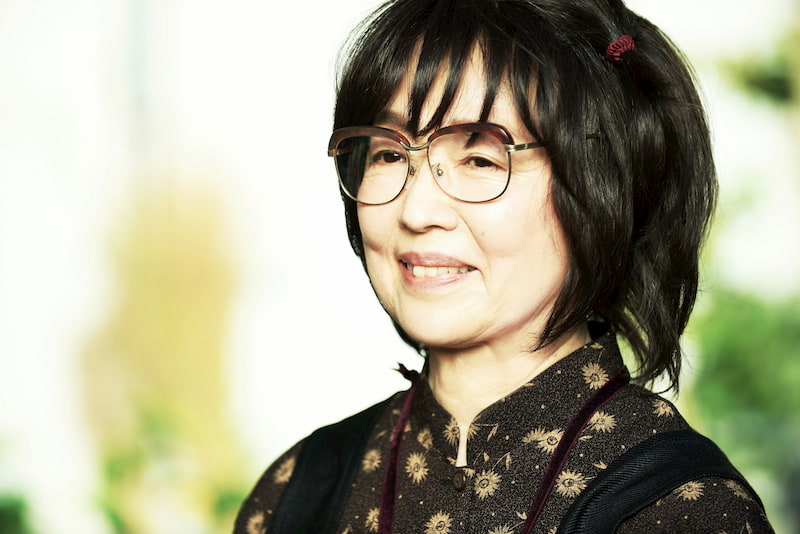 The principal of the orphanage is played by Nobuko Miyamoto who is a veteran actress appeared in a number of top movies such as "A Taxing Woman".
Her words are so powerful after protecting the children at the orphanage for so many years. Having so many comical scenes, her presence acts as an anchor of the story.
There is no end to talking about great actors but there are certain scenes that I couldn't help cracking up.
Maybe they are not so well-known overseas bun important figures in Japanese rock scenes like Jun Miura and Tomoro Taguchi made a cameo appearance in the film (though they leave a significant mark on the story).
The screenplay is written by Yoshikazu Okada who has written screenplays for soap operas for NHK ( Japan's national broadcaster) based on the novel by Kazunobu Mineta who is also a member of a popular rock band "Ginnan BOYZ".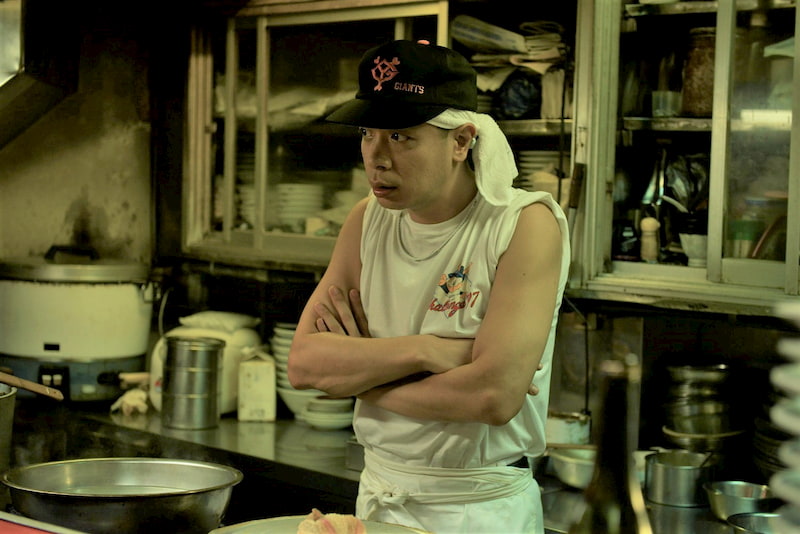 Of course, Mineta, like many of his fellow, makes his cameo appearance as the owner of the ramen place. Also, rock fans may also sneer at the t-shirt with the text "THE MAD CAPSULE MARKETS".
Kota's Colleague, Gabriel
There is one thing to add with regards to the cast.
Kota has a Philipino colleague at the frozen food factory. That's one of the realities of Japan.
His name is Gabriel played by Paul Magsalin from the Philipines.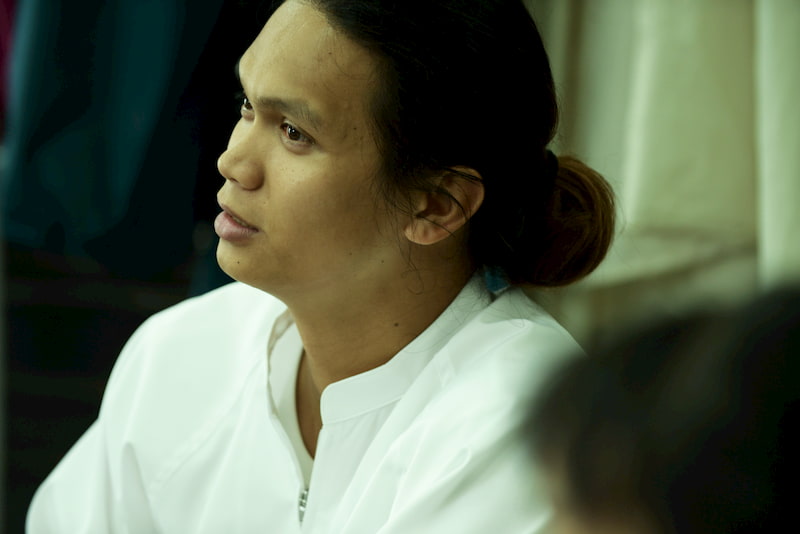 Gabriel isn't directly involved with the main storyline but he is one of the people that surrounds Kota's daily life. During the break, he shares his iPod with Kota and everybody seems to love him.
When the Great Earthquake happens, Kota stands by his side. You'd be terrified of earthquakes especially if you are from a place that doesn't have many of them. His kind attitude makes us want to thank him on Gabriel's behalf. I think that's what shows who Kota is the most.
Scenes with Gabriel adds to show more what kind of person our main character really is.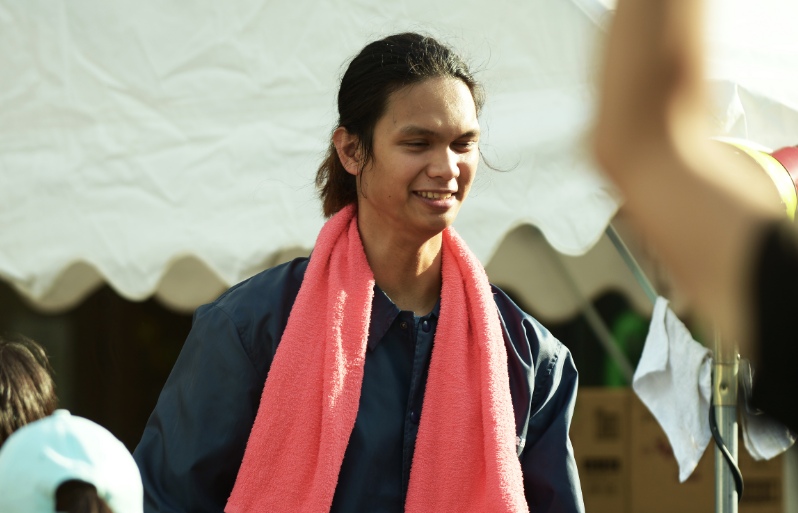 Paul also had a role in "The Tokyo Night Sky Is Always The Densest Shade of Blue" in which Shizuka Ishibashi starred.
He speaks Tagalog, English, and Japanese. Though it is possible for non-Japanese speakers to get a role, being able to speak Japanese is definitely helpful.
Harmony with Ginnan BOYZ
This movie in a way visualizes the world of Ginnnan BOYZ. Through Kota, we can experience their world as if it is an attraction.
In the original novel, the titles of Ginnan BOYZ's songs are used between each chapter. Several titles are scattered here and there in the movie too. The theme song for the movie is written specifically for it with the same name.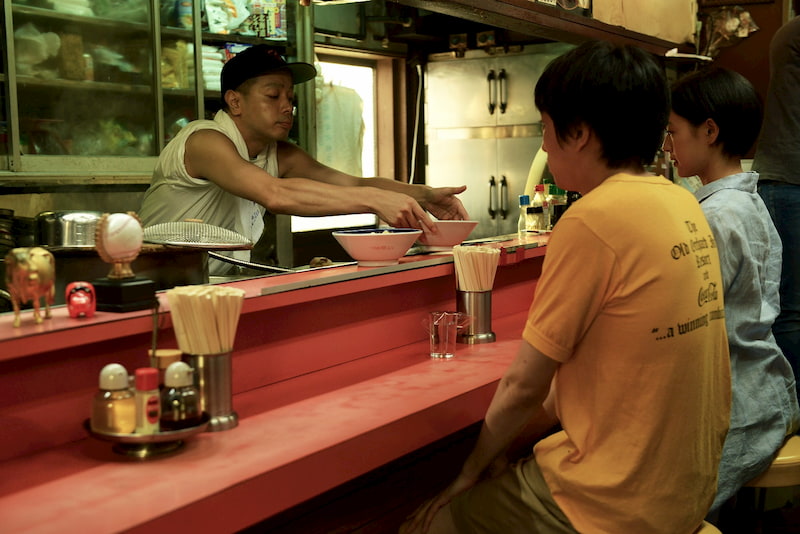 I remember many years ago, one of my colleagues said fascinatedly that she loves Ginnan BOYZ. Now I understand they have that charm.
The release will be on the 5th of July, two days before Tanabata. There are no subtitled version but there is no reason add it to your watchlist if you understand even a piece of Japanese.
You get to see how Tanabata is like as well as landscapes of Japan both in the city and the countryside.
And of course, a little bit of romantic moment is universally nice.

Ichigo no Uta
Release: 5th July 2019
http://ichigonouta.com/
Starring
Yutaro Furutachi Shizuka Ishibashi/Emi Wakui/Ken Mitsuishi/Kaya Kiyohara/Kika Kobayashi/Riku Ohnishi/Harumi Syuhama/Michiko Watanabe/Paul Magsalin/Hikaru Yamazaki/Yuki Izumisawa/Aju Makita/Yuri Tsunematsu/Yukino Kishii/Kazunobu Mineta /Nobuko Miyamoto
Director: Shintaro Sugawara
Writer: Yoshikazu Okada (novel & screenplay), Kazunobu Mineta (novel)
Music: Hiroko Sebu
Song: Ichigo no Uta by Ginnnan BOYZ
Producer: Keisuke Konishi
Distributor: Phantom Film
ⓒ2019「いちごの唄」製作委員会
【配給・宣伝問い合わせ】:ファントム・フィルム
〒151-0053 渋谷区代々木1-11-2 代々木コミュニティビル3F
TEL:03-6276-4035 FAX:03-6276-4036