Speaking of foreigners "Free Wave"

– Introduction of the company –
An international talent agency who thinks firstly to build trusting relationships with clients,
talents and society , it is Free Wave.
Trust based on abundant experience and achievement of 26 years of establishment.
Since our founding in 1992 as a dance agency, we have been involved in the management of various foreign artists. Today, we have established "Model Section", "Narrator · Voice Actor Section", "Talent Caltural person Section","Actor Section","Extra Section", "Singer · Musician Section" and "Dancer · Performer Section" to respond to a wide range of client's requests.
From CM · video production, TV · mass communication, music / event production industry, fashion industry, bridal related industry, we can utilize our abundant experience and achievements in various fields.
If you would like to coordinate foreigners / narrator / celebrities, please do not hesitate to contact us.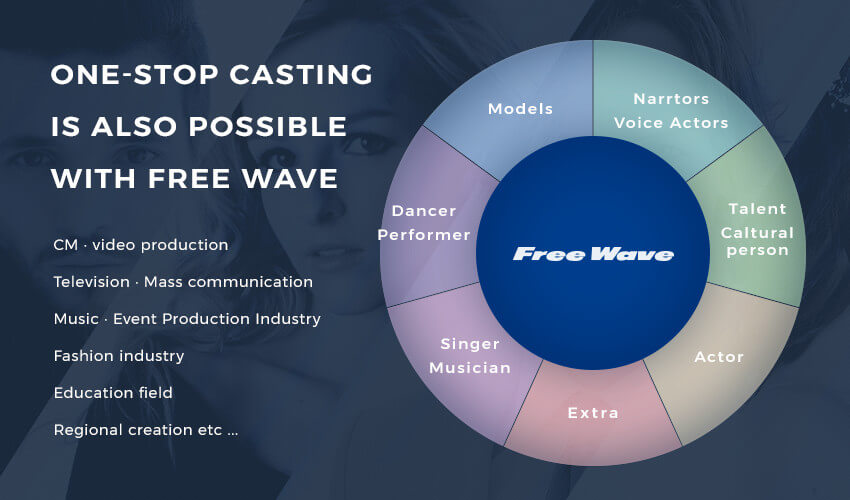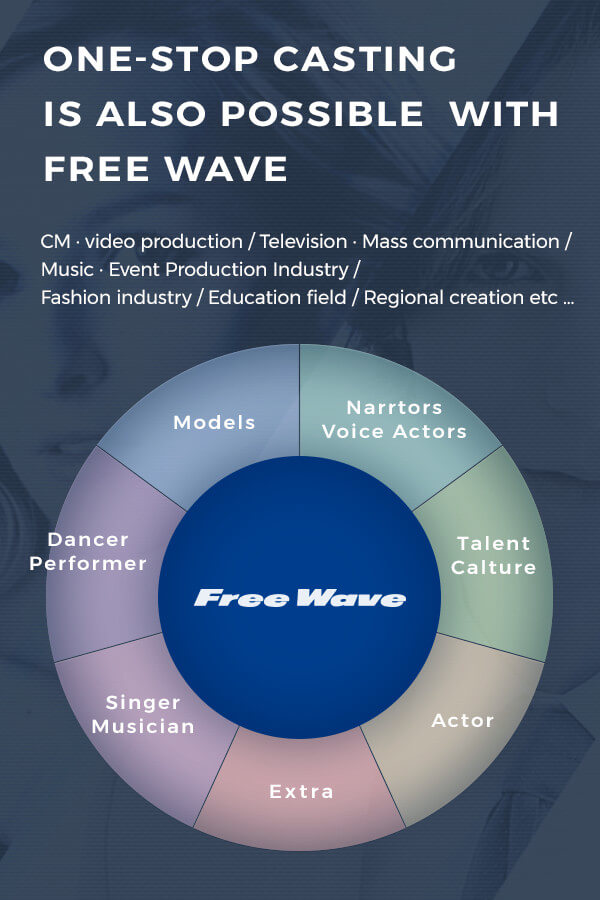 Respond quickly to
the casting of a large number of extras
(over 100 people) !
The strength of Free Wave is "High speed of responsiveness quickly" backed by abundant experience and achievement. "I'd like you to arrange a foreign talent in a hurry." In the case of "CM shooting, when a lot of extras are needed …" please contact us first. We will respond promptly and accurately even with arrangements of over 100 foreigners extras.
About 2,500 registrants!
There are abundant
human resources
who can be active
in a wide range of fields !
Our greatest strength is that we have all the people who can be active in a wide range of fields.
About 2,500 models / narrators / talents who are registered as free waves have risen, and the number of registrants continues to increase even now.
If we can master our own network and talent, we can produce not bound by established concepts and cast with high quality.
Good and fine
talent management
and footwork goodness!
We are always on the client's point of view, providing a high degree of casting. Since bilingual interpreters are also stationed, communication with foreign talents is also smooth. We will take advantage of our existing management skills and the goodness of footwork and we will respond to clients' detailed requests.