(Japanese) 株式会社フリー・ウエイブは創業28年目に突入いたしました!
外国人モデル事務所フリー・ウエイブは、2019年2月3日で27歳の誕生日を迎え、創業から28年目に突入します。
これからもどんどん挑戦していきますので、今後ともどうぞよろしくお願いいたします!
Feb 3rd was FreeWave's 27th Birthday!
We'll keep on challenging!
Thank you very much for your support!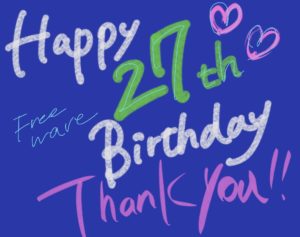 The only foreign foreign agent talent agency in seven sectors including foreigner model, narrator, talent, cultural person, actor, dancer
In the foreign narration department handling foreign narrators around the world, accurate narrator casting with a sense of security has been appreciated and the regular appearances of NHK related programs are 30 or more. Speaking of a foreigner's talent is a free wave. We will make full use of the industry-leading strong talent network and respond to clients' needs.